LIBRARY ADVISORY COMMITTEE
 

Sr.

No.

       

            Name

 

 Designation

 

Committee

Designation

1
Dr. M.N. Phad
In charge Principal
Chairman
2
Dr. V.C. Oak
Asst. Professor
Member
3
Mr. A.N. Murumkar
Asst. Professor
Member
4
Dr. A.R. Shahane
Asst. Professor
Member
5
Mr. N.B. Saste
Librarian
Secretary
---
LIBRARY TIMING
Sr.

No.

 

             Particulars

 

         Timing

1
On Working Days
8.30am to 4.30 pm
2
During Vacation
8.30amto 4.30 pm
3
20 days before Examination
8.30 am to 7.00 pm
---
* Total area of the library – 7680 Sq. Mts.
* Total seating capacity:  200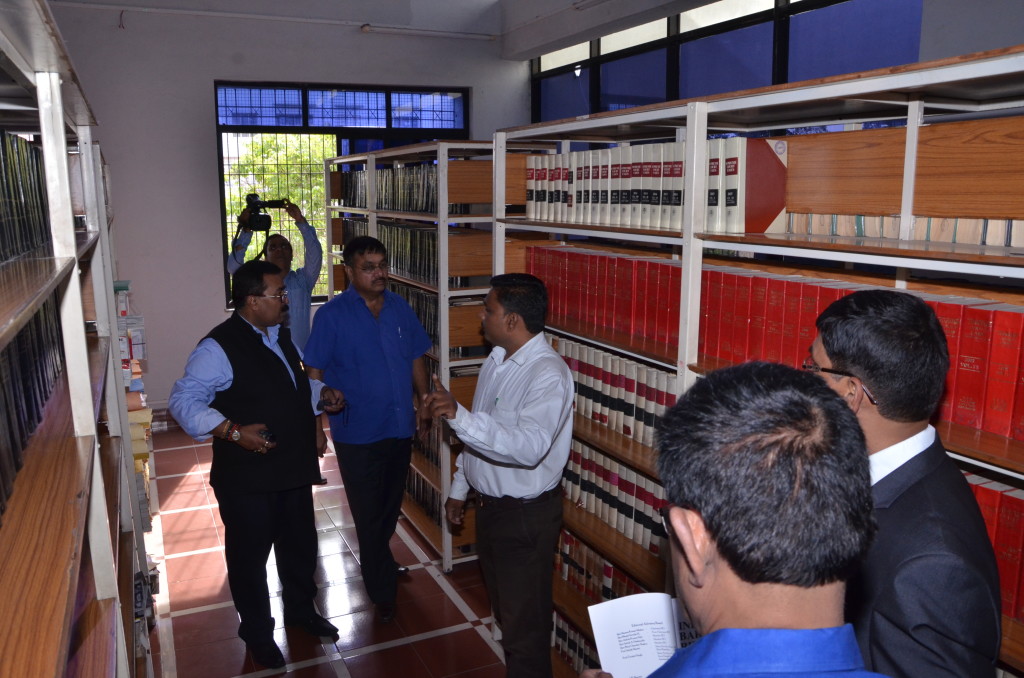 Library

Expenditure

2011-12

No.     Cost

2012-13

No.        Cost

2013-14

No.            Cost

2014-15

No.      Cost

 Text Books
260
76215
193
52249
265
82902
185
48525
Reference

Books

52
53820
116
64631
105
82890
73
61555
BCUD Project
00
00
00
00
15
27353
23
46480
Journals
16
71245
17
55822
30
79390
22
64424
E resources
0
0
02
6000
02
6500
01
6500
Newspapers
07
7811
10
11632
10
14301
11
16424
Total Nos.
335
174957
 328
155713
   416
208708
313
188778
* Online Public Access Catalogue (OPAC) – The College has developed OPAC facility to locate the material available in the library.
* Electronic Resource Management package for e-journals: The College has provided access to e-journals is through INFLIBNET facility.
* Federated searching tools to search articles in multiple databases – The College has subscribed to Manupatra online database which has federated searching tools for searching the articles on various topics of law.
* Library Website – There is no separate website for the Library. However, a link is provided on College website through which library resources can be known.
* In-house/remote access to e-publications: From INFLIBNET, a number of e journals are accessible.
* Library automation – The library is automated. The College is using the Library software developed by Biyani Technologies Ltd.
* Total number of computers for public access 17 Desktops
* Total numbers of printers for public access 1
* Internet band width speed 10 mbps
* Institutional Repository
The College keeps record of library material and college related information in servers. It contains Project Reports, Photographs, Prospectus, Journals and other information.
* Content management system for e-learning -There is no content management system developed for e-learning
* Participation in Resource sharing networks/consortia: So far no sharing facility is available in the library
* Average number of walk-ins 45
* Average number of books issued/returned: 50 to 55 per day
* Ratio of library books to students enrolled Books: Students = 22: 1
* Average number of books added during last three years -309
* Average number of login to OPAC – OPAC is recently started and no data is available
* Average number of login to e-resources 5 per day
* Average number of e-resources downloaded/printed 3 per day
* Number of information literacy trainings organized – 2
* Details of "weeding out" of books and other materials -There is no weeding out policy as yet since the drastic change in syllabi has not taken place so far.
* Manuscripts
Library maintains the written memorials of Moot Court Competition. Research work of faculty and students is also maintained in the Library.
* Reference
Library has separate reference section.
* Reprography
College Library provides reprography facility to students, faculty members and all library users. Printer, scanner and photocopy machine is available for the same in the library.
* ILL (Inter Library Loan Service)
The College has Inter library borrowing facility with Central Library of Vidya Pratishthan's Arts Science and Commerce College which is in the campus.
* Information deployment and notification (Information Deployment and Notification)
Library conveys the information about latest acquisitions to faculty members and students by displaying the books on the display board in library. A separate list of latest acquisitions is prepared and sent to faculty members and students. Latest book catalogues received from various publications are also shown to faculty members to make them aware about new titles, new editions etc. Library also gives related information to faculty members through e-mails.
* Download and printing
In the Computer Lab downloading and printing facility is available for students, faculty members and other users like alumni or advocates.
* Reading list/ Bibliography compilation:
At the College library, reading list is made available to the users at Circulation Counter. Books are arranged according to Divide Decimal Classification (DDC), 22nd ed.
* In-house/remote access to e-resources
College library provides access to e-journal database like EBSCO, OPAC and also some open access e-journals and e-books through a link on College website.
* User Orientation and awareness :
The Librarian delivers a lecture for all the students informing them about the library resources
* Assistance in searching Databases
The computer instructor is always ready to help the users in searching the databases
* INFLIBNET facility
INFLIBNET Facility is subscribed by the College. The faculty members as well as the students use this facility for socio-legal research.
The library staff and computer instructor assist the teachers and students in legal research and learning of law.  The following support is provided by the Library Staff to the students, faculty members and other users:
Apart from home lending, the following services are provided to the users by the Library Staff:
Information about current titles
Information about new acquisition
Information about new journals
Newspaper clippings on latest judgments of Supreme Court and important legal issues
Question paper sets
Competitive examination books
List of articles is provided to faculty members and students on demand
Reprography service
Email and social media messages